Port West Ilaine & Penrose Trade Mark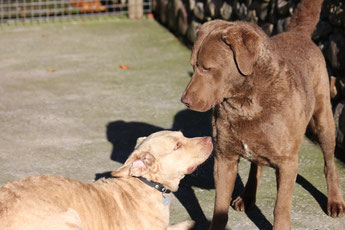 Ilaine wurde am 06.+08.10.2014 von dem Rüden Sarmi (Penrose Trade Mark) gedeckt.

Am 08.12.2014 brachte sie 9 Welpen zur Welt, 3 Hündinnen und 6 Rüden.
Diesen Baumstamm fanden wir während eines Spaziergangs in England. 
Port West Ilaine - "Ilaine"
Penrose Trade Mark - "Sarmi"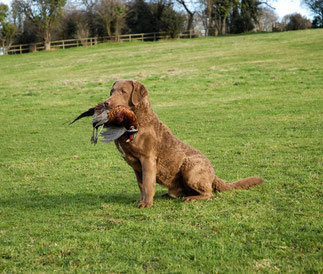 Besitzerin Janet Morris über "Sarmi"
Sarmi combines many of his father's (Ch Penrose Valentine WDQ) and mother's (Fin, Swe Nor Ch Batzi's Fain Of Arwen WDX) assets. A strong powerfully built dog with excellent bone and a superb coat. Extremely intelligent he learns quickly, especially enjoying training days on Gelligaer mountain in South Wales. Never before have I had a dog with so much desire and determination. A strong and active worker, he has a soft mouth, is quiet and loves to please. Retrieves anything and everything to hand. 
Gesundheit
DM: über Erbgang frei
PRA: über Erbgang frei
HD: sehr gut
Augenuntersuchung: frei von Krankheiten (02.02.2014)
Show
Best Puppy in show Chesapeake Ch Show 2012
Reserve Best Puppy in show United Retriever Club Ch Show 2012